The global pandemic made many conferences around the world cancel or switch to a digital-only model. While it is unknown when we will come back to the crowded conference rooms, you can get expert knowledge and discover the latest tech trends at the world's biggest tech events in the comfort of your home. 
So which tech conferences are going to feel like home this year? We've compiled the list of the great tech events that will be held 100% virtually. The conferences are sorted by date and most of them are free of charge.
1. DevSecCon24
Dates:

June 15-16

Cost:

free

Original location

: London, UK

Deadline to apply:

no information

Topics:

Security Automation, Secure development, Threat Modeling, Serverless and Container Security, etc.

Speakers:

Mário Areias

(Senior Security Engineer, Canva),

Jerome Walter

(Chief Information Security Officer, APJ),

Victoriya Kalmanovich

(Engineering Team Lead, Aspectiva),

Mohan Yelnadu

(Head of Application Security, Prudential Insurance),

Kris Nova




(Chief Open Source Advocate, Sysdig), and more.
DevSecCon24 is a 24-hour event that combines the topics of Development Operations and Security. At this online event, you will learn how security can be implemented in the overall development process from industry experts and practitioners. DevSecCon24 will feature leading speakers in DevOps, Security, and Development.
Dates:

June 16-17

Cost:

from $0 (Open Pass) to $395.00 (Dev Leadership Summit Pass)

Original location

: San Francisco, California, USA

Deadline to apply:

June 17

Topics:

Artificial Intelligence, API innovation, Microservices, Containers, Kubernetes, and 100+ new developer technologies

Speakers:

Brian Gracely (Sr. Director Product Strategy, Red Hat OpenShift),

Nelson Petracek

(CTO, TIBCO Software Inc.),

Rod Cope

(CTO, Perforce Software),

Brian Eccles

(Q Ambassador, IBM),

Chris Mitchell

(VP of Technology Strategy, Blackbaud), and more.
DeveloperWeek Global 2020 is the world's largest virtual developer and engineering conference hosted by DevNetwork. It brings together thousands of participants around the globe online to experience 100+ keynote and technical talks, developer technology virtual pitch contest, developer awards, a virtual hackathon, a virtual expo, and awards for supporting the developer community.
Dates:

June 16-18

Cost:

99 euros

Original location

: Berlin, Germany

Deadline to apply:

no information

Topics:

Hybrid cloud technologies, Containers, Agile methods, and Continuous integration

Speakers:

Aiko Klostermann

(Technology Consultant, ThoughtWorks), Monika Khanna (Associate Design Director, IBM) Abhijeet Kasurde (Senior Software Engineer, Red Hat), David Pilato (Developer at Elastic), Dennis Rosa (Speaker & Developer Advocate, Couchbase), and more. 
Stackconf is a tech conference about open source infrastructure in the spectrum of continuous integration, container, hybrid, and cloud technologies. This year the conference includes 40 expert sessions and attracts infrastructure specialists, experienced administrators, IT architects, and open source community enthusiasts.
Dates:

June 23-25

Cost:

starting from $99 

Original location:

Toronto, Canada

Deadline to apply:

till June 12

Topics:

Marketing and media, Developers and data, Society, Commerce, Lifestyle, Business Development

Speakers:

Brad Smith (President, Microsoft), Tedros Adhanom Ghebreyesus (Director General, WHO), Dawn Ostroff (Chief Business Officer, Spotify), Arianna Huffington (Founder & CEO, Thrive Global), Cal Henderson (Co-founder & CTO, Slack), and more. 
The Collision Conference is the "America's fastest-growing tech conference" that attracts CEOs of top startups and enterprises. This famous tech conference called "The Olympics of tech" by Politico includes 400+ speakers, 30,000+ attendees, and 100+ hours of content.
Dates:

June 29 – July 2

Cost:

$50

Original location

: Austin, Texas, USA

Deadline to apply:

no information

Topics:

Linux Systems, Embedded Linux, AI, IoT, Cloud App Development, Cloud Infrastructure, OS Dependability, OS Databases, Diversity, and OS Leadership


Speakers:

Grace Francisco (Vice President, Worldwide Developer Relations & Education, MongoDB), Linus Torvalds (Creator of Linux & Git), Daniel Qian (Software Engineer, eBay), Dirk Hohndel (VP & Chief Open Source Officer, VMware), Joel Lehman (Senior Research Scientist, Uber AI), and more.
The Open Source Summit belongs to the series of conferences sponsored by the Linux Foundation. Every year the Summit brings together 2,000+ developers, architects, and tech leaders to share knowledge about the latest trends in open source and shape its future. It will feature 230 keynotes, sessions, and in-depth tutorials.
Dates:

July 14 – September 8

Cost:

free

Original location

: San Francisco, California, USA

Deadline to apply:

no information 

Topics

: Industry Insights, Productivity & Collaboration, Infrastructure, Security, Data Analytics, Data Management & Databases, Application Modernization, Cloud AI, Business Application Platform

Speakers:

Thomas Kurian (CEO, Google Cloud), Javier Soltero (VP & GM, G Suite, Google Cloud), Jennifer Lin (VP, Product Management, Google Cloud), Morgan Akers (Executive Director, JP Morgan Chase), Smita Hashim (Director, Product Management, Google Cloud), and more.
Google Cloud Next '20 is a global conference that dives deep into Google cloud technology with the help of industry leaders, multiple breakout sessions, digital demos, and learning opportunities. This 9-week conference will feature over 200 sessions on a different topic every week – from Industry insights and Infrastructure to Cloud AI and Business Application Platform.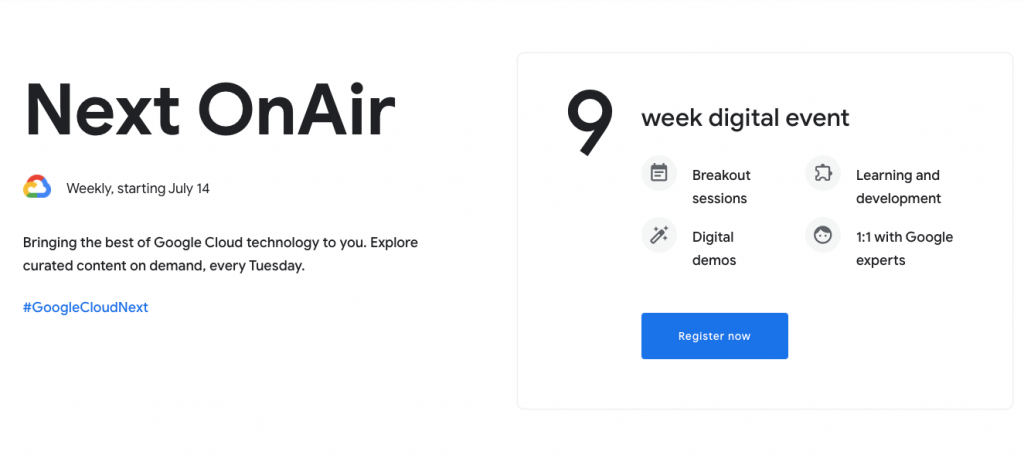 Dates:

August 4-6

Cost:

from $0 (Community Pass) to $299 (Conference Pass)

Original location

: San Francisco, California, USA

Deadline to apply:

June 17

Topics:

Design, Programming, Business & Marketing, Production & Team management, Visual arts, Audio, Advocacy, Career & Studio development

Speakers:

John Tracey (Content Designer, Netflix), Reynolds Erin (Creative Director, Flying Mollusk), Wera Julien (CPO, Paradox Interactive),

Borovikov I

gor (Sr. AI Scientist, EA), Fodor Peter (Founder & CEO, AppAgent), and more.
The Game Developers Conference (GDC) is an annual conference for video game developers. The event includes a variety of talks, lectures, and tutorials on game-related topics. GDC 2020 will also host a series of career development sessions including such topics as the art of pitching the game, communication, and business development strategies.
Dates:

September

Cost:

free

Original location

: New Orleans, USA

Deadline to apply:

no information

Topics:

Productivity, Development, Security & Compliance, IT Management, Fundamentals, Infrastructure.
Microsoft Ignite 2020 is a virtual conference where you can explore the latest platform tools and cloud technologies as well as learn new ways to build solutions, migrate and manage your infrastructure. Also, you'll get a chance to virtually connect with Microsoft experts and tech professionals all over the world. 
Dates:

September 17-19

Cost:

from $99 (general) to $799 (all access)

Original location

: 

Deadline to apply:

no information

Topics:

Recommendation Systems, Transfer Learning, Machine Vision, Autonomous Machines. Conversational AI, Artificial Intelligence, Speech Recognition, Unsupervised Learning, Image Classification, Machine Translation.

Speakers:

Alan Rutter (Founder, Fire Plus Algebra), Violeta Misheva (Data Scientist,

ABN AMRO Bank N.V.), Dat Tran (Head of AI, Axel Springer SE), Daria Stepanova (Research Scientist, Bosch Center for AI), Jannes Klaas (Quantitive Researcher, University of Oxford), and more.
ODSC Europe Virtual Conference 2020 is one of the largest applied data science conferences. Here you can learn the latest AI & data science topics, tools, and languages from top speakers and industry experts. The event's focus areas include open data science, deep learning, machine learning, data science research, AI business track, data visualization, quant finance, and more. 
Dates:

November 10-12

Cost:

free

Original location

: online

Deadline to apply:

no information 

Topic:

.NET 
.NET Conf is a free 3-day virtual conference co-organized by the .NET community and Microsoft. This year, the event celebrates its 10th anniversary. .NET Conf 2020 will include the presentation of .NET 5.0, 24-hour broadcasts with speakers around the world, lectures, and knowledge-sharing sessions. 
Virtual conferences bring in exciting opportunities to learn from the world's tech industry leaders with minimum efforts. And it's a perfect time to catch them 🙂  
Want to learn from the best and grow your career? Benefit from the knowledge-sharing culture in the 1,000+ experts strong company. We have a lot of open positions.