When you work in a company with over 1,000 experts, you feel this great concentration of knowledge and skill. And it would be foolish not to benefit from it. 
We have always shared knowledge and learned from each other at N-iX. But at some point, we realized that we could make learning even more effective. More and more senior professionals wanted to mentor and teach others. This is how we got the idea of N-iX Meetups. 
In April 2018, the N-iX Meetups project took the first step. Olena Gryhorchuk, Delivery Manager at N-iX, was the first person to support this initiative and gave an insightful lecture on project management, its role, responsibilities, issues, and challenges.
For almost 2 years, we've been organizing meetups every week in our Kyiv and Lviv offices. Also, N-iXers can join them online and access all the videos and presentations at any time. 
MORE THAN 70 TOPICS COVERED
From productivity tips and risk management to AWS infrastructure and application security risks in .NET, N-iX experts spoke on many different topics.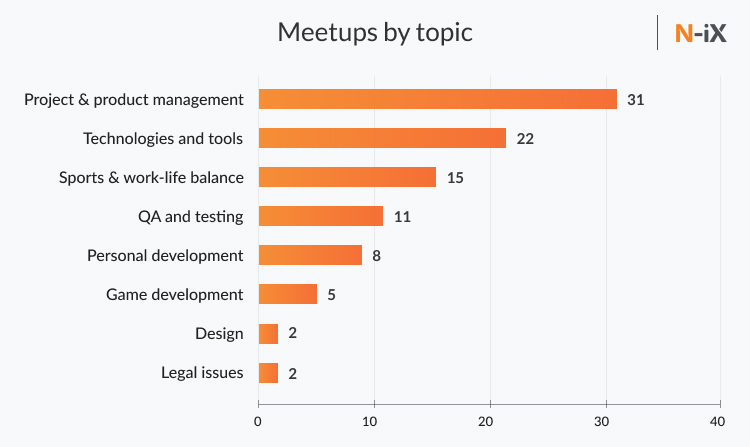 Soft-skill topics relate to everyone so always generate a lot of interest. But also, you can work on your hard skills, join a specific tech community at N-iX and organize a meetup to discuss the challenges you tackled on your project.
A few of the most popular meetups were:
Become a new productive version of yourself with these insights; 
Negotiations: tools and tactics; 
What is SDLC? Project management methodologies and practices; 
A systematic approach to risk management.
Our meetups are mainly internal, but there were two external events: a GameDev meetup with 400+ participants and a JavaScript meetup in Lviv Coffee Manufacture.
OVER 60 EXPERTS SHARED THEIR KNOWLEDGE
Here are our most active speakers:
Myroslava Iavorska, a Delivery Manager, gave 5 lectures on the project, team and risk management in Lviv and Kyiv;
Olena Ivanko, an Agile Delivery Lead, spoke about Agile methodologies and frameworks at 3 tech meetups;
Maksym Palamarenko, a Head of Software Development Office, introduced programming technologies for non-technical people and talked about career growth opportunities at N-iX;
Andrii Pastushok, a Business Development Manager, gave two presentations about product management and pricing basics;
Serhii Babich, a Lead Software Engineer, made presentations on both hard and soft skills.
PROMOTING KNOWLEDGE-SHARING CULTURE AT N-IX
The primary goal of this initiative is to encourage and support knowledge sharing among N-iXers. N-iX Meetups are free educational events that bring benefits both for the speakers and attendees. 
If you are a senior professional, you can practice your public speaking skills, start interesting discussions, grow your tech community, and share the experience with your colleagues. For participants, meetups are a great chance to improve their skills and knowledge on a wide range of topics. And you don't even have to leave the office for that 🙂
Benefit from our knowledge-sharing culture! We have many open positions for you.