Lebara is one of Europe's fastest growing telecoms with five million active customers, 1,400 employees globally and operations in nine countries. For us, Lebara is one of our biggest partners and one of the most exciting projects at N-iX. It is a family of over 100 teammates at N-iX and a lot of like-minded professionals in London. For people who join our Lebara teams, it is an excellent chance to work with the latest technologies, grow, contribute ideas about product development, and travel to the UK.
How the story began…
We started to work with Lebara in December 2014. Since then, we've achieved a lot thanks to the shared effort, and many things have changed. 
Everything began from a couple of engineers on our side and a staff augmentation model of cooperation. Then the client started delegating more and more responsibilities to our developers, and the number of specialists at N-iX started growing. Today we have a big development center that builds multiple products for Lebara. These products are used by millions of people all across the globe.
We are responsible for most aspects of the product development. They range from software development, quality assurance, and business intelligence development to operations application support, database administration, and infrastructure support. Most tech leads, project managers, and prevailing tech expertise and tech-related decision making are now on our side.
We have a large team of 100+ N-iX engineers who work on Lebara products. It consists of fast-growing sub-teams of Hybris experts, .Net and Java developers who work with microservices, Javascript, iOS, Android software engineers, Big Data engineers, BI specialists, Data Scientists, UX designers, DevOps, Quality Assurance and Tech Support engineers. The scope of our cooperation is expanding, and the client often introduces new, top-notch services and solutions to keep abreast of the market trends.
''Working with N-iX helped us go to market with new digital products quickly. Essentially, and very importantly, the partnership allows us to service our global migrant customers better wherever they might be.''
Chief Technology Officer, Lebara
Our team is friendly and supportive
Lebara is a dynamic project, with a variety of cutting-edge sub-projects and top-notch technologies. And people working on Lebara share certain personal features. They are intelligent, ambitious, and agile. Our people embrace challenges, learn fast, and push forward their ideas. The environment is dynamic yet cooperative. People are willing to help, lend their shoulder to teammates, explain something, and back up each other if needed.
We've got a truly friendly team. They can support you at any moment, stay up late at work to help each other out…This is something you can't measure and you can't see, you can only feel it.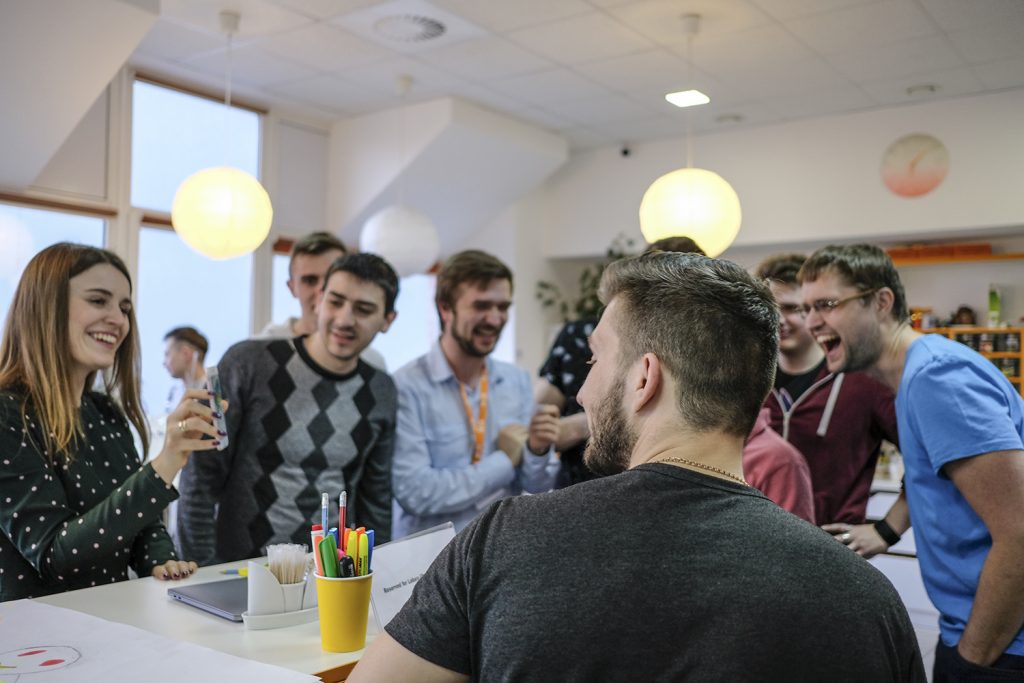 Also, we like to keep transparency in the team, and it removes the barriers between us.
"I always tell my team that we are a mature team, and we need to be honest with each other. So if someone spots that someone has done something wrong, they can candidly and openly say this. And this is great as it lets us grow both in terms of our work and as a team, it builds some trust."

O. Kononchuk, Scrum Master
You can see a bigger picture and you are a part of a discussion
We've got a many-to-many communication model. The customer knows everyone on the team, prefers direct communication, and welcomes everyone into an open discussion. Lebara sees us as a part of their own team. This way everyone gets to see a bigger purpose, understand real business KPI's, and feel a part of the product.
"The customer challenges our engineers to think out of the box and leave no problem without a solution. That's both an opportunity and a heavy responsibility, which pays off in the end as you don't simply write code, you make a difference. Also, those guys on the Lebara side take on board our developers' well-grounded suggestions."

O.Pirus, Delivery Manager
The client has built trust in us. As a result, Lebara wants the team not to simply deliver tasks and suggest architecture. The team is encouraged to think as the customer does and come up with ideas on how to implement the product more efficiently.
When some Microsoft technologies were only in Beta, our .NET team was actively using them in production simply because we convinced the client that they were better and more effective for solving tasks.
That means both proactivity and taking on responsibility. As the customer relies on us and trusts us heavily, we can choose a technology we want to adopt. Of course, if the choice is well-grounded and justified and if it is potentially going to bring value. For example when some Microsoft technologies were only in Beta, our .NET team was actively using them in production simply because they were better and more effective for solving tasks.
Our tech leads, PMs regularly visit London when a new product or a new direction is launched. They go there to adopt new knowledge and discuss strategic tech-related issues. And usually, they spend there 1-2 weeks communicating directly with the business top management, marketing, etc. In 2018, there were 32 business trips on Lebara, which is more than on any other project at N-iX.
You can see the results of your work
Working for Lebara you can see the fruit of your work. For example, the Hybris team uses Hotjar to track user experience on the Lebara website. The tool records user interactions, and you can see how easy your product is to use or how users are struggling with something because you didn't think that it would matter or it simply doesn't work as it should. This way you can learn from your mistakes or take pride in the cool UX they created. It's really nice to see that something you created is being used by real people, and they like it or hate it. And of course, that's an effective exercise that helps to see what's wrong, improve the product, make it more user-friendly, and simply go beyond the code.
"The Lebara team members can get a really cool experience as that's not merely about tasks, sprints, etc. It's about seeing a full cycle of the product, from how requirements are born to the moment when, for example, an immigrant from Mexico uses the service you developed to call his mom."

O.Pirus, Delivery Manager
We share knowledge in a team
To enable effective and continuous knowledge-sharing, the customer conducts tech talks with subject matter experts dwelling on a topic. This practice of knowledge sharing is adopted and actively used by our own teams. Once a week, there are half-an-hour long tech talks where everyone can talk about the area they know. And that allows the team to be a cross-functional one.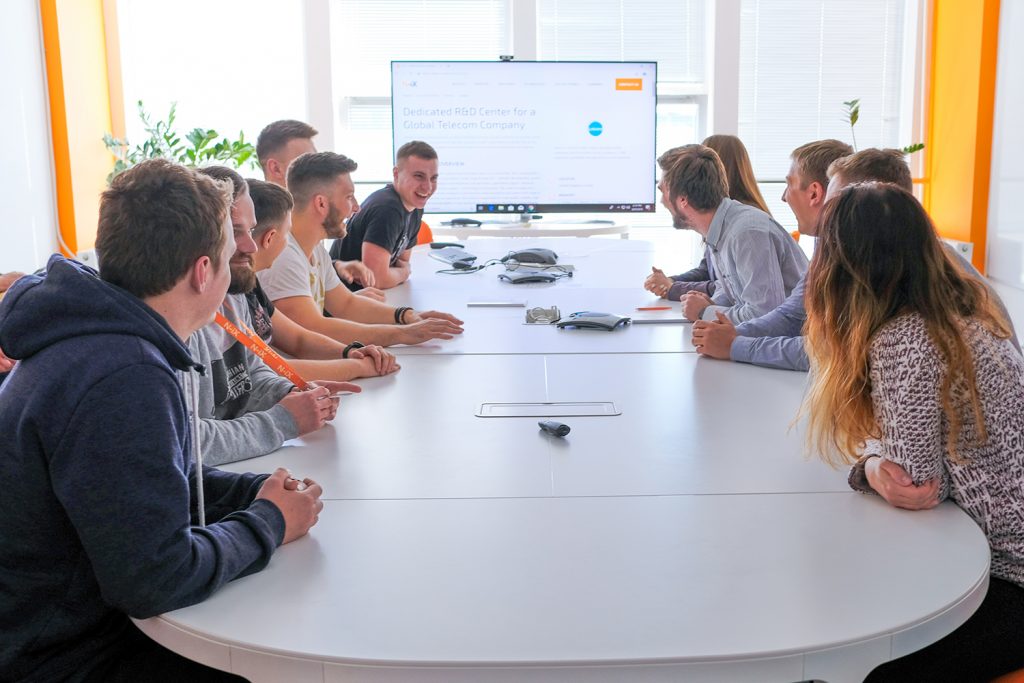 "I like the trend of knowledge-sharing we have in Lebara. It helps to make a team more cross-functional. Also, that's cool for the team members as they get the experience of knowledge-sharing and learn how to do it right, how to tell something and explain your point. And that's an essential skill that can be used in many aspects of life. They can take part in presales and use this knowledge there. Or start teaching on various pieces of training. That's also a good check whether you know something yourself. Therefore each time we share knowledge – we learn ourselves and teach others."

Olha Kononchuk, Scrum Master
Our communication is smooth and motivating
Our teams communicate only between each other and with people on the customer side, who are located in London, UK. However, there is a multinational team on the customer's side.
"One of my favourite positive experiences while working on Lebara is a multinational team on the customer's side. That was a real challenge for me when I joined the team. As you are typically used to communicating with the British and Americans. And here you are suddenly faced with the need to understand Indians, Pakistanis, the French, the Dutch, Spaniards and struggle to make out what they are talking about despite their accents. And developing such skill was a huge boost to my self-development.

And I can see the same when someone new joins the project and gradually starts to understand all these accents. That's really cool and exciting as at first you don't understand and then you communicate easily with so many nationalities and understand so many accents. That's a huge boost to self-confidence and a nice investment into future professional and personal development."

O.Kononchuk, Scrum Master
When we need to discuss something, we have on-demand meetings. To do it effectively, we use Microsoft Meetings. It's the Lebara's corporate communication tool, and it's rather good as it doesn't lag as much as Skype.
Thanks to a dynamic pace of work, Lebara is a great project for developing negotiation skills and learning to collect requirements as there are many stakeholders and dependencies. Therefore, you learn to get together everyone you need ( all the stakeholders), if you miss out on someone – you 'll end up with a problem during the release. 2) ask the right questions and to ask them at the right time. 3) sum up everything following the meeting and clarify the requirements as many times as you need to have no blind spots left.
We welcome newcomers
When several newcomers come, an HR manager helps them to learn the ropes of how everything is working here, tells about the direction and the project the team is working on. Also, a tech lead is assigned to teach and mentor each newcomer. And we set up a meeting with key stakeholders and start sharing knowledge.
Our projects are diverse
It's not that easy to get bored when working with Lebara as there is a variety of products and projects the teams are collaborating on. For example, the .NET team is working in parallel on 6-7 projects, and projects change each six-seven months, as there are often new integrations with payment providers and other new features introduced. The Hybris team has plenty of various projects too, and they last on average for three-four months.
We grow and innovate
Software engineers here get a chance to try their hand at plenty of cutting-edge technologies and contribute to innovative projects. They are prompted to upgrade and polish up their skills, and as a result, people get a chance to be promoted from trainees to middle developers or from senior developers to tech leads and architects in less than two years.
"One of the key things I like about working on Lebara is a fast pace of work, and that keeps you always alert and alive. You need to always be in the loop and keep up to date. Otherwise, you can miss out on something important. That's great for time-management skills that are transferred later on other aspects of your life as you develop this self-discipline and a focused pattern of thinking and doing things."

O.Kononchuk, Scrum Master
You can participate in cutting-edge projects that are very rare on the market if they exist at all. For example, we started making a configuration app to create a custom price plan that fits a specific user's needs. Also, Big Data engineers started making a Data lake to enable real-time data streaming. That allows generating actionable reports on the fly and taking timely business decisions, without 3-4 week delays. Also, we use data science for fraud analytics.
You feel cared about
To measure recognition and track feedback, we use Peakon (anonymous survey poll of employees to measure and improve employees' satisfaction ). The tool is customizable and its results are measurable, therefore you can check if something has improved or got worse. The teams have been using it for more than a year. The results showed that we lagged in 'caring', and our HR manager looked into it. To improve it, we've introduced one-to-one meetings, pieces of training, follow-ups, and now we are one point above the general benchmark. As a side effect, attrition has improved as well.
We celebrate small victories
When a team accomplishes an important project, the client arrives on site and hangs out with a team to celebrate this small victory together.
Also, both Lebara and our team leads and PMs take the effort to recognize employees in many ways and introduce gamification in the working process.
For example, in one of the N-iX teams working with Lebara, there is a monthly ritual. There is anonymous voting, and the team members decide who made the largest contribution to the work of the team during the month. The winner is named the champ of the month and they receive a 100$ shopping certificate, paid by the customer. In another team, a person who made most support work, which is not very pleasant, receives a Quadcopter paid by the client.
Sum-up
Working with Lebara, developers can participate in cutting-edge projects that are very rare on the market if they exist at all. You can push forward your initiatives, choose the technology, take on responsibility for new ideas, see the results of your work, and feel recognized for them. And you get to understand the business process of everything and can feel a part of the product that is used by people all across the globe.